HAN VAN MEEGEREN - BIBLIOGRAPHY
There are at least twenty-five Meegeren related books, as well as countless articles about the relation Meegeren Vermeer. The more important Meegeren books are discussed here. For a complete survey see reference 6. All these books are still available, either at antiquarians, regular bookshops or internet bookshops.
DUTCH BOOKS
Meegeren, Han van: Teekeningen 1 (Drawings nr 1), The Hague 1942.
A large volume with drawings by van Meegeren and a foreword by his old friend Van Genderen. Although in Dutch it is also of interest for non-Dutch readers as it contains 40 large reproductions of drawings and watercolors. The excellent watercolour Nachtlokaal 1924 is included as well.
Browse in antiquarian's catalogues, or place a commission, the book is not that rare.

Marie-Louise Doudart de la Greé: Geen Standbeeld voor Van Meegeren (No Statue for Van Meegeren), Amsterdam 1966. Containing 18 illustrations.
The oldest serious report on Van Meegeren's life, based on interviews with the artist in 1946. Both this book and the book by Kilbracken are vital for Meegeren related studies.
See www.boekwinkeltjes.nl and insert "geen standbeeld" as a title to find antiquarian copies.

Frederik H Kreuger: Han van Meegeren, Meestervervalser (Master forger), Diemen (Amsterdam) 2004, ISBN 90-76988-53-6. Containing 120 illustrations, many in color.
New facts and recently found paintings and photographs are shown here.
Try www.boekwinkeltjes.nl or an antiquarian.
ENGLISH BOOKS
John Godley: The Master Forger, London 1950. Contains 3 illustrations.
The journalist John Godley was asked by the Meegeren family (his first wife and her children) to write this book.
See www.bookfinder.com and insert "meegeren" as a title to find antiquarian copie.

Lord Kilbracken: Van Meegeren, Master Forger, New York 1967. Contains 40 illustrations.
After he had inherited the title Lord Kilbracken, John Godley wrote this second Meegeren book with the aid of van Meegeren's son Jacques. Together with Doudart's book from 1966 it forms the most valuable source of information, although one has to "read between the lines" because of misinformation caused by van Meegeren himself. Contains 40 illustrations.
See www.bookfinder.com and insert "meegeren" as a title to find antiquarian copies.

Frederik H. Kreuger: A New Vermeer, Life and Work of Han van Meegeren, Rijswijk (The Hague, Holland) 2005, ISBN 978-90-5959-047-2. With 185 illustrations. The most complete biography of the three, based on new facts, recently found documents and interviews with witnesses.
Mail uitgeverij@quantes.nl for information or ordering. The book has also been published as E-book at Amazon: http://alturl.com/frmov.
OTHER BOOKS
More books have been published about the Meegeren affair, but not all of them are reliable. Reference 6 gives indications about the various works.
SHORT SURVEYS
For a short survey of the life of Han van Meegeren the lemma " Meegeren " yields excellent results in Wikipedia. The author has checked the English, Dutch and German versions of the Meegeren lemma and has found them to be adequate. He made corrections in some of these texts.
COLLECTION OF PICTURES
The largest collection of digital pictures of Van Meegeren's work can be found in the files of the RKD, the Rijksbureau voor Kunsthistorische Documentatie (Netherlands Institute for Art History) in The Hague, Holland.
See http://website.rkd.nl in English. (For specific questions contact RKDdatabases@rkd.nl)
A choice of Van Meegeren literature is shown in the gallery below.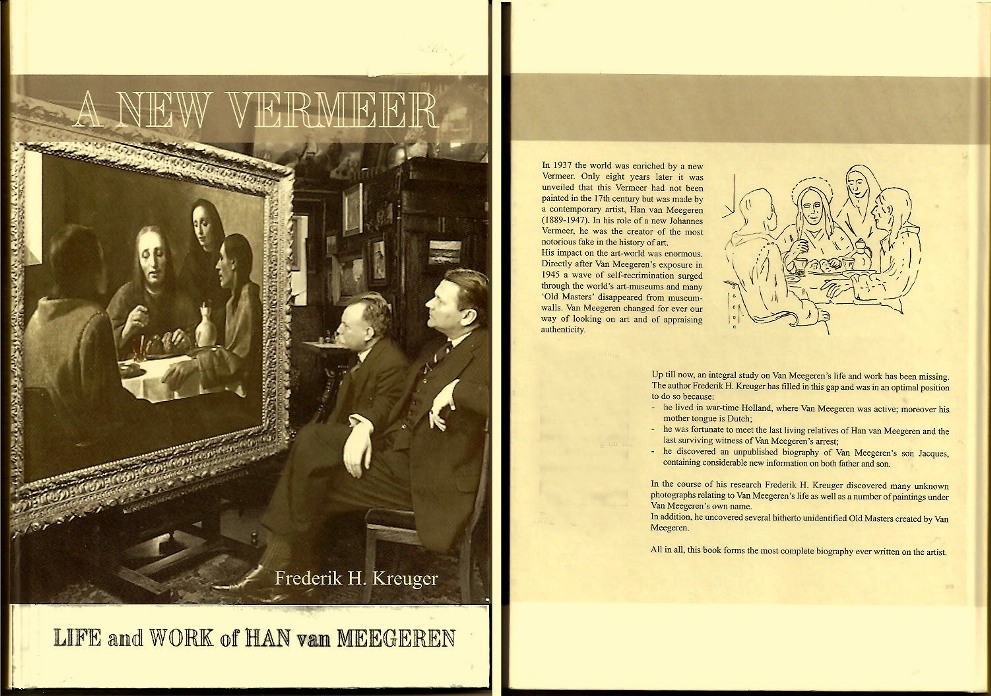 LIFE and WORK of HAN VAN MEEGEREN,
HIS BIOGRAPHY
The author made this study in 2004, 2007 and 2012.
Until this biography an integral study of Van Meegeren's life was missing. The author filled in this gap and was in a position to do so because:
- he lives in Holland and Dutch is his native tongue
- he interviewed the last surviving relatives and witnesses
- he discovered many new sources among which an unpublished biography of Van Meegeren's son.

To be found as E-book at Amazon: click http://alturl.com/frmov
The paper edition may be found here as well.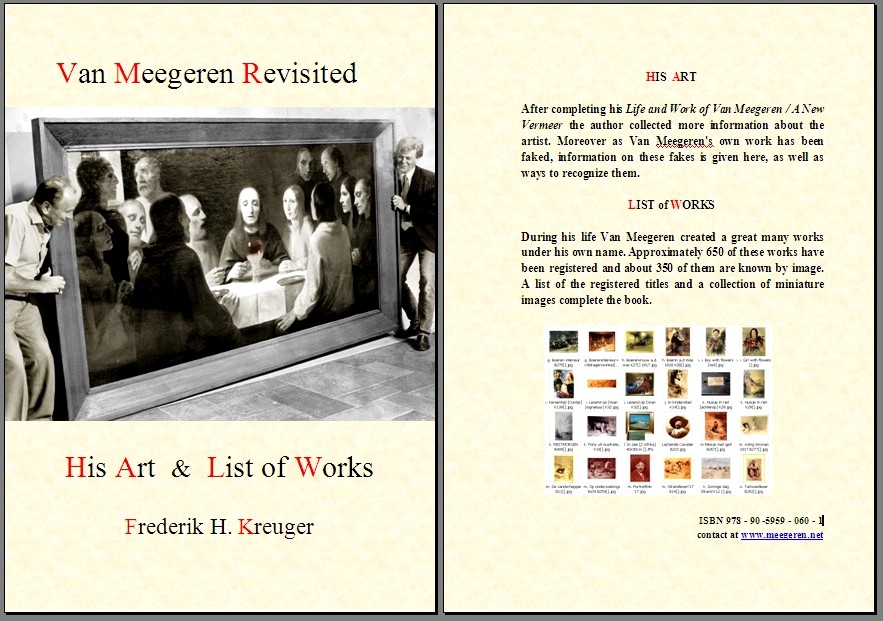 VAN MEEGEREN REVISITED, (including a LIST of his WORKS)
Published as E-book
Recently the biographer of Han van Meegeren published a new book about the artist: "Van Meegeren Revisited & List of Works".
It contains numerous new facts and many newly discovered paintings. The book ends with a complete list of all works made by Van Meegeren under his own name. Pictures of the works are shown in collections of stamp-sized images.

To be found as an E-book at Amazon.com: click http://alturl.com/ujqw2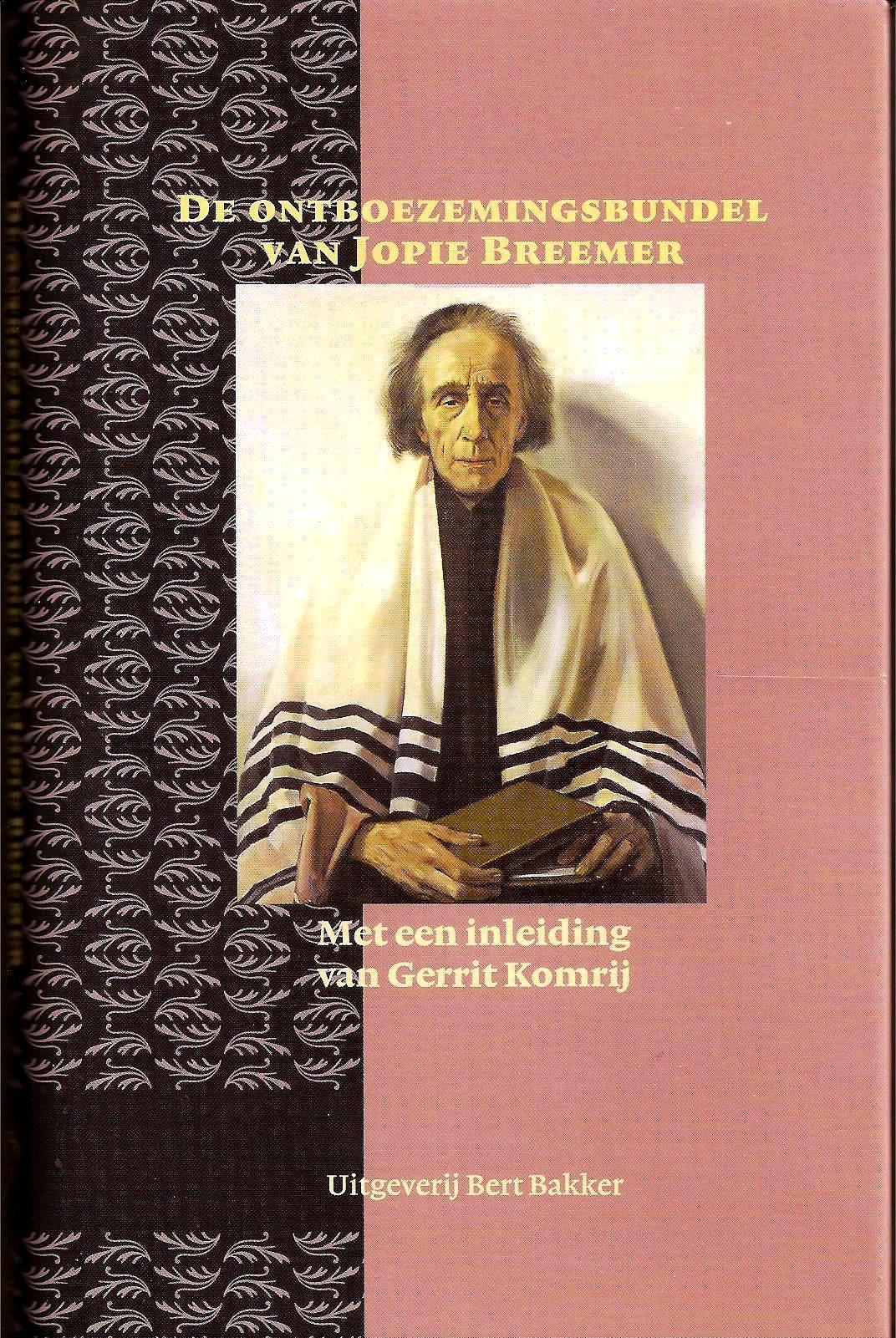 Jopie Breemer as the Praying Jew – recently found source of information
Jopie Breemer (1875-1957) was a well-known Bohémien in pre-war Holland. He kept artistic sessions at his home - in his Jopie-hol (Jopie's den) as he called it – weekly on Wednesdays and Fridays. He called his sessions Effusion Nights where Dadaïstic and Anarchistic artists could speak their mind and where would-be artists gathered together with actual painters, actors, authors, journalists, etc. Artistic young ladies of the higher classes were welcome as well.
Above his door a formula was shown: AM2 – 2, meaning 'Everything is allowed except two things'. When visitors asked what these two things were, they got as an answer that they would notice it when it would occur…
Well-known guests were Eduard Coenraads, a singer, Tom Schilperoord, journalist and entertainer, Arthur van Schendel, poet, and Han van Meegeren, painter and a good friend of Jopie. Also Pablo Picasso was a guest when he visited Holland in the summer of 1905.
In about 1921 Han van Meegeren made a study trip to Italy in company with Jopie. Referring to this trip by quoting Van Meegeren's own words:
'My wardrobe had to be in order and I went to consult my students – I had many aristocratic pupils, children of ministers, noblemen, huh, and other intellectuals – and they all said: "Baasje, you should do it. This is your cup-of-tea. You now can see those Italians who are responsible for the Renaissance, huh?" (huh being the expletive Han always used).
The trip threatened to be cancelled but his wealthy female pupils revolted and said:
"No Baasje, that will not do: you shall go and go as fast as possible. Your passport is a question of weeks. And how much do you need? Would ten grand be sufficient?"
'Well, that was certainly what I needed, huh, and Jopie would come with me. After all, one can't go out into the world of High Society without the porter of the Grand Hotel… We went to Italy and stayed there for three months, huh, but it was three years too short...'
Jopie wrote nonsense-poetry and nonsense-prose that was published in 1913 in a booklet with the remarkable title: A Volume of Effusions by Jopie Breemer (De ontboezemingsbundel van Jopie Breemer).
To quote one of his nonsense poems in a free translation:
The traveler travels back and forth
From Amsterdam to Amersforth
And sometimes too to Bended Knee
And Beetsterzwaag and Middle Lee.
He reads the paper in his compartment
And takes his suitcase to an apartment
He wears a fine white collar, white and high
And when he sits he utters no word, nor sigh
He never speaks with men from Amersforth
The traveler travels back and he travels forth.
The portrait that Van Meegeren painted of his friend Jopie Breemer as a Praying Jew was one of the finest he ever made. He never sold it but kept it for himself, also during the war when it was highly dangerous to be the owner of such a Jewish piece of art. If it would have been found, it would have cost him his life, or at least an internment in a concentration camp. But he kept the painting until his death in 1947.
Many years later, in 1998, Jopie's Volume of Effusions was published again [2] and the cover of the new edition was embellished with Van Meegeren's Praying Jew as a tribute to Jopie: Bohémian and friend.
[1] Bob Wallagh De echte van Meegeren Strengholts Uitgevers, Amsterdam 1947
[2] Jopie Breemer De ontboezemingsbundel van Jopie Breemer Uitgeverij Bert Bakker, Amsterdam 1998
[3] Persoonskaart 's Gravenhage: Breemer, Joseph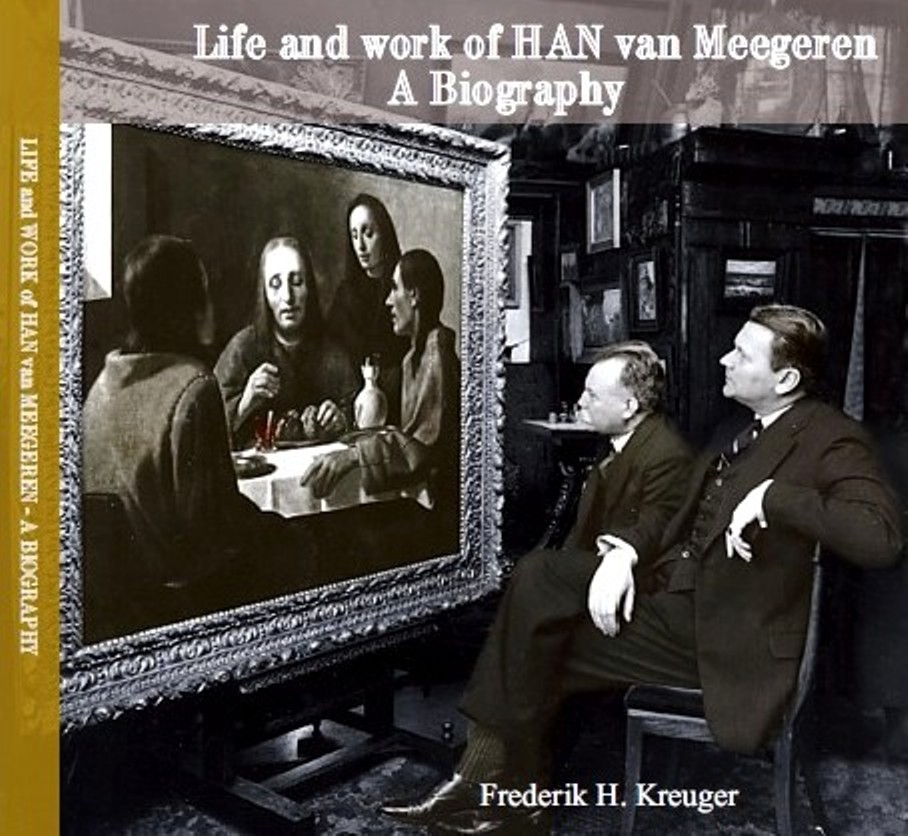 Biography Han van Meegeren as E-book ( http://alturl.com/frmov )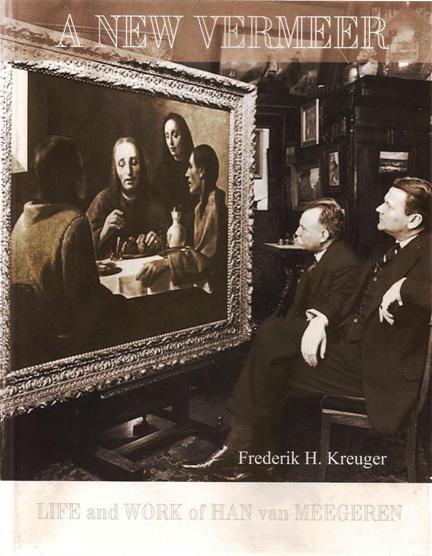 Biography as a paper book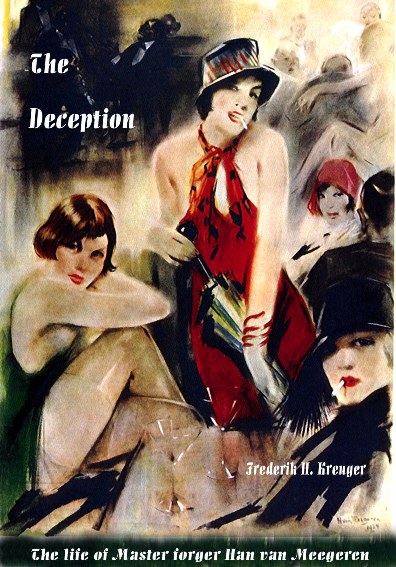 A novel based on the life of Han van Meegeren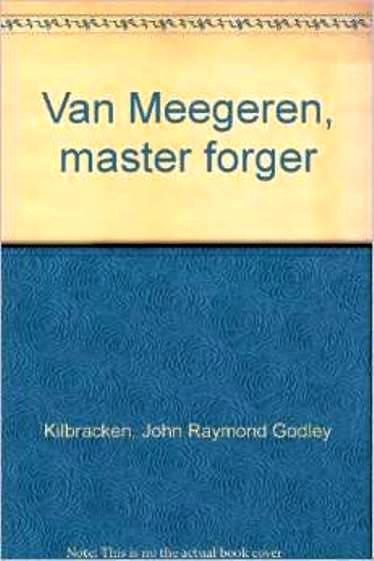 The first biography by Lord Kilbracken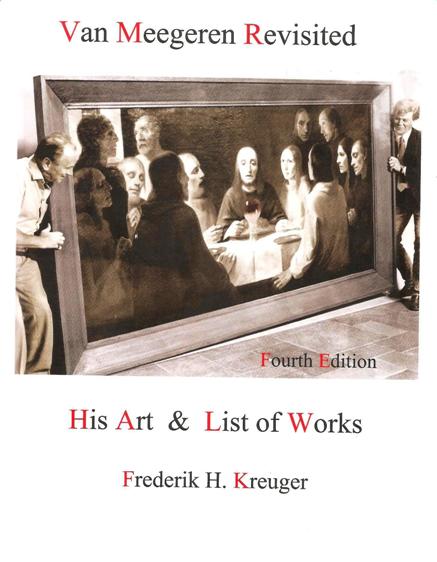 An extension to the Biography


The original biography in Dutch